The South Side Pediatric Asthma Center
The South Side Pediatric Asthma Center (SSPAC) is a partnership of healthcare organizations. The SSPAC partners are UChicago Medicine Comer Children's Hospital, La Rabida Children's Hospital, Friend Family Health Center, St. Bernard Hospital, Beloved Community Family Wellness Center and Chicago Family Wellness Center.
Our Vision
Reduce the burden of asthma for children and families on the South Side of Chicago.
Our Mission
The South Side Pediatric Asthma Center will improve health outcomes for children with asthma by facilitating access to care,
promoting standardized treatment and educating through community engagement and outreach.
SSPAC Programs
Education

Provide standardized and easy to understand asthma education materials to providers, patients and community members.
Host a yearly Asthma Education Summit for health care providers, community members, schools and other community-based organizations.
Provide asthma education to school staff, day care center staff and parents.

Community Health Workers

Community Health Workers (CHWs) are community members who are trained in asthma. They partner with families to help them better understand their child's asthma. They serve as a link between the families and the patients' doctor. CHWs work at SSPAC partners' sites to focus on families of children with high-risk asthma. They provide education, conduct home environmental assessments and connect people to resources.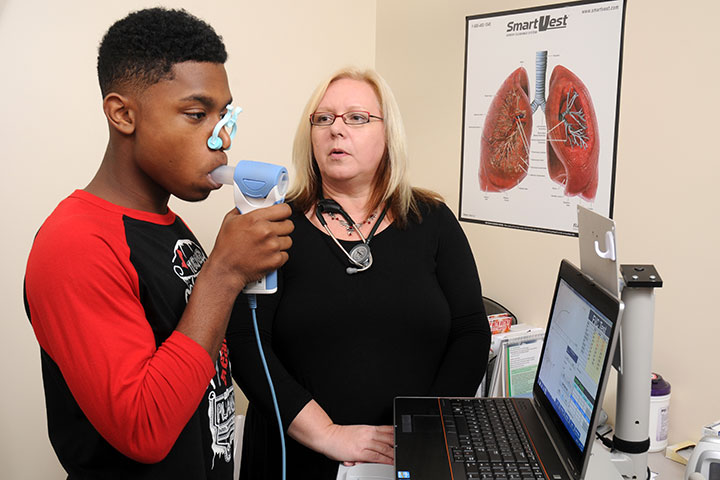 Our History
About 20 percent of children on the south side of Chicago have asthma. It could be as high as 30 percent because there are children that do not know they have asthma. This is much higher than the 10 percent who have asthma statewide.
In June 2017 UChicago Medicine started the South Side Pediatric Asthma Center (SSPAC).  This new program that connects more kids on the South Side to asthma care and resources. It has also expanded the number of Community Health Workers (CHWs) who focus on asthma.